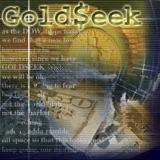 Stubbornness does have its helpful features. You always know what you're going to be thinking tomorrow.
Glen Beaman
Expert after expert is busy proclaiming that the world is about to come to grinding halt again. They never seem to let up on pushing this sewage onto the unsuspecting masses. This is aclear example of insanity in action; mouthing the same nonsense over and over again with the desperate hope that this time the outcome will be different. The outcome will not be different this time, at least not yet. These guys should focus on writing fiction for reality seems to elude them completely. For years we have stated (and rightly so) that until the sentiment changes, this market will continue to soar higher and higher.
Here is a small sample of the flood of articles that were pushed out this month. If one simply glances through them, one would almost be compelled to think that the writers shared the same notes. There is almost no originality in these articles. The theme is the same, justbecause it's October the focus is on the disaster aspect of the 1987 crash. Almost no one mentions that it proved to be a monumental buying opportunity. The focus is oh the financial world came to a grinding halt. Only it did not, the only that came to a halt was the rubbish the predecessors of today's experts were uttering back in 1987. This reinforces the view that most financial writers have chosen the wrong profession One word sums all this nonsense 'Rubbish.'
This post was published at GoldSeek on 24 October 2017.