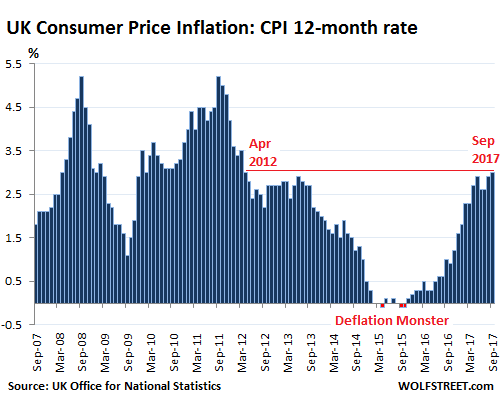 The Fed leads, other central banks follow.
The UK is not the only one. But it's furthest ahead. In the US, consumer prices as measured by the Consumer Price Index rose 2.2% in September compared to a year ago. In the Eurozone, prices rose 1.5%. And today the UK's Office for National Statistics reported that consumer prices in the UK jumped 3.0%, after having already risen 2.9% in August. It was the biggest increase since April 2012.
And inflation is outpacing wage increases, which inched up a meager 2.1%, slamming consumers further, and hampering the UK economy that is already showing signs of strain, with, for example, new vehicles sales plunging over 9% in September from a year ago.
Inflation has now been above the Bank of England's target of 2.0% for the eighth month in a row:
This post was published at Wolf Street on Oct 17, 2017.