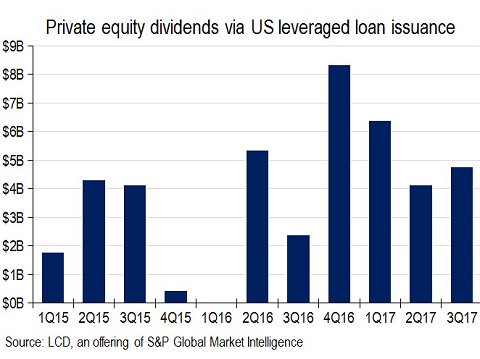 Here are the numbers. Peak chase-for-yield by institutional investors?
Most of the brick-and-mortar retailers that have filed for bankruptcy protection to be restructured or liquidated over the past two years have been owned by private equity firms – including the most recent major casualty, Toys 'R' Us. Part of how PE firms make money is by stripping capital out of their portfolio companies via special dividends funded by 'leveraged loans' – more on those in a moment – leaving these companies in a very precarious condition.
So just how much have PE firms paid themselves in special dividends extracted from their portfolio companies? $4.76 billion in the third quarter, bringing the year-to-date total to $15.3 billion. So the year-total for 2017 is going to be a doozie.
In all of 2016, this sort of activity – 'recapitalization,' as it's called euphemistically – amounted to $15.7 billion, up from $10.5 billion in 2015, according to LCD, of S&P Global Market Intelligence. LCD's chart shows the quarterly totals:
This post was published at Wolf Street on Oct 16, 2017.