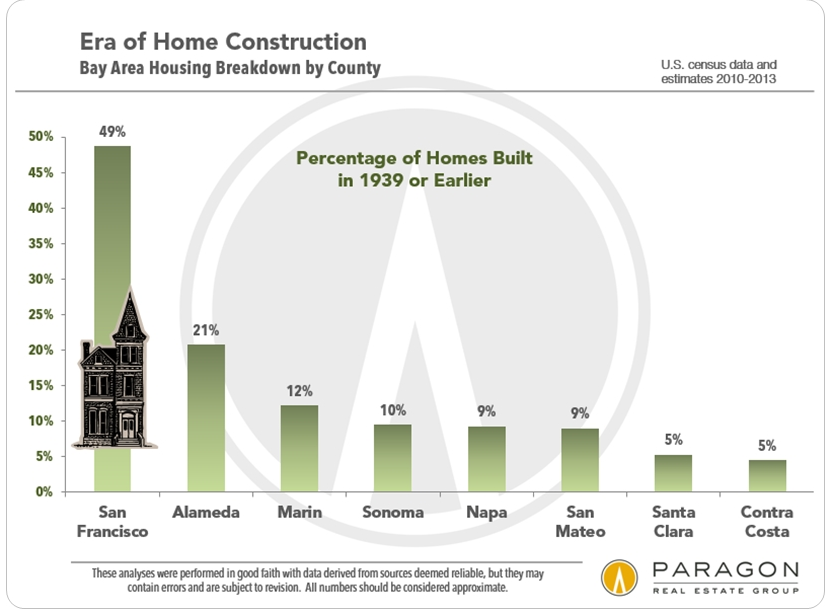 The San Francisco housing market is the most inflated and delusional market in the United States. It does make sense though at least from a psychological perspective. You have many people that are cubicle or open space programming junkies working away to create the new app or new crypto currency and somehow, they feel that 'tiny' spaces are worth lots of money. It is telling but no surprise given the environment many work in. Then you have the case of people doing mega commutes into the Bay Area from inland locations similar to the morning exodus of people from the Inland Empire to Los Angeles and Orange County. Yet the market does seem to be overheating and some reality is starting to creep in. Apparently, no amount of tech enabled photo filtering is going to turn a crap shack into the Cinderella of housing.
Old homes in the Bay Area
Let me start off that homes in the Bay Area are old. We are talking pre-World War II built old. Now of course we know that Taco Tuesday baby boomers now own the housing market in California but did you know that housing in the Bay Area is also aging and frail as well?
Don't take my word for it:
San Francisco is old. The homes in San Francisco are old. But you
This post was published at Doctor Housing Bubble on August 24, 2017.