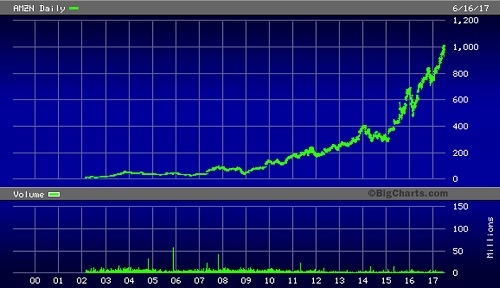 Mark this date on your calendar: Friday, June 9, 2017. That's the date that the big downward move in the largest tech stocks began. The day also saw a rotation into big bank stocks (which is like swapping a land mine for a hand grenade – there's going to be an explosion, it's just a matter of degree).
The selloff on Friday was triggered by a research report from Robert Boroujerdi of Goldman Sachs. The report compared today's FAAMG tech stocks (Facebook, Apple, Amazon, Microsoft and Google-parent Alphabet) to the highfliers in the tech bubble that crashed in 2000: Microsoft, Cisco, Intel, Oracle and Lucent.
Boroujerdi used a lexicon that the market did not want to hear: 'death,' 'extremes,' and 'difficult to decipher risk narratives.' The exact sentence went like this:
'This outperformance, driven by secular growth and the death of the reflation narrative, has created positioning extremes, factor crowding and difficult-to-decipher risk narratives (e.g. FAAMG's realized volatility is now below that of Staples and Utilities).
This post was published at Wall Street On Parade on June 19, 2017.