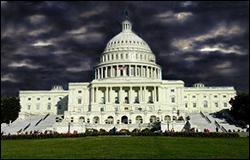 A new poll is out from the Associated Press/NORC Center for Public Affairs Research at the University of Chicago. It doesn't bode well for Donald Trump's presidency nor for the U. S. economy. Despite Wall Street's century-old propaganda campaign to convince Washington that it controls the levers to economic growth in the U. S., and thus must be placated on its every desire, informed citizens understand that economic power rests in the hands of the consumer in a nation where two-thirds of GDP is consumer spending.
Likewise, consumer confidence in the President of the United States impacts one's willingness to open the purse strings and buy. The thinking is: if the country is headed in the wrong direction, how safe is my job? Perhaps I should stop spending and put money away for a rainy day.
The new poll shows that 64 percent of Americans disapprove of the job Trump is doing. Particularly troubling for a democracy, 65 percent say he doesn't respect the country's institutions and traditions. On specific issues, 66 percent disapprove of his handling of health care; 64 percent disapprove of his handling of climate change; 63 percent disapprove of his handling of foreign policy; 60 percent disapprove of his handling of immigration and 55 percent disapprove of how he's handling the economy.
This post was published at Wall Street On Parade on June 15, 2017.