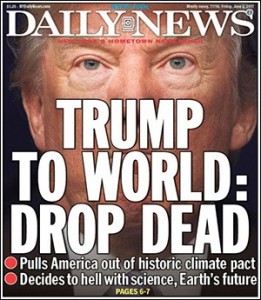 The unthinkable is happening so fast to America that there is a serious, growing threat that U. S. citizens are becoming desensitized to the chilling reality of our nation's precipitous decline in respect and credibility around the world. The reflex action is to either deny it's happening or pull the covers over one's head.
Two weeks before President Donald Trump announced the U. S. withdrawal from the Paris Climate Accord, Der Spiegel, one of the most influential and widely read news magazines in Europe, published a breathtaking assessment of the sitting President of the United States. Written by its Executive Editor, Klaus Brinkbumer, the editorial was brutal and came from a publication known for its investigative acumen. Brinkbumer made the following observations:
'Donald Trump has transformed the United States into a laughing stock and he is a danger to the world. He must be removed from the White House before things get even worse…
'Donald Trump is not fit to be president of the United States. He does not possess the requisite intellect and does not understand the significance of the office he holds nor the tasks associated with it. He doesn't read. He doesn't bother to peruse important files and intelligence reports and knows little about the issues that he has identified as his priorities. His decisions are capricious and they are delivered in the form of tyrannical decrees…
This post was published at Wall Street On Parade By Pam Martens and Russ Marte.