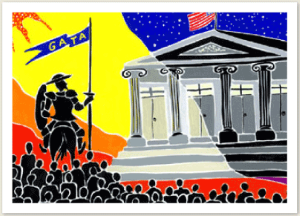 Of course the managers of T.P.'s mining companies are hardly alone. Even the most highly regarded and wealthy managers of companies that mine the monetary metals pretend not to understand this, though one of them, Frank Giustra, indicated in January that he is beginning to suspect that central banks and governments are working against gold prices.
If Giustra, a billionaire and confidant of former President Bill Clinton, ever chose to act on his suspicion, he might change the world.
Then monetary metals mining company investors might urge the managers of their companies to review and try rebutting the extensive documentation of government suppression of monetary metals prices compiled by GATA.
Anyone who reviews those documents will discover that far from being mere "conspiracy theory," gold price suppression is actually long-established Western government policy, recorded in government archives, both public and secret.
That is, there is no "theory" here, only historical fact.
But as hopeless as the monetary metals mining industry seems, there are reasons for its cowardice.
This post was published at GATA