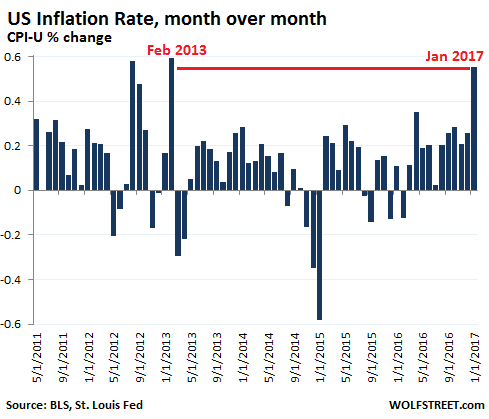 Workers, bondholders, savers get sacked. So what would Yellen do?
Consumer prices surged 0.6% in January from December, double the consensus forecast of a 0.3% rise. The sharpest monthly increase since February 2013, according to the Bureau of Labor Statistics.
Energy prices jumped 4% month over month, including gasoline which jumped 7.8%. Food prices edged up 0.1%. Within this group, 'food at home' was unchanged, but prices for 'food away from home' – restaurants, taco trucks, and the like – rose 0.4%. In just one month, the prices of apparel rose 1.4%, of new vehicles 0.9%, of auto insurance 0.8%, of airline fares 2.0%. Shelter rose 'only' 0.2%, as the national numbers are now feeling the downward pressure on rents in some of the most expensive rental markets in the US.
This chart shows just how sharp that jump in monthly price increases is, compared to recent years:
This post was published at Wolf Street by Wolf Richter ' Feb 15, 2017.