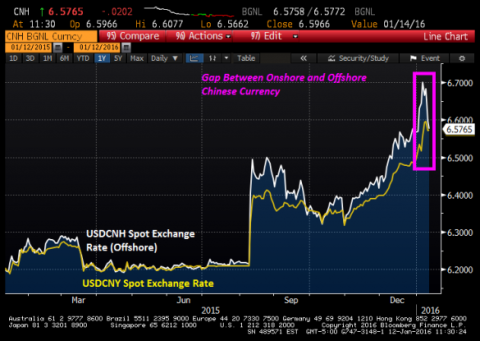 The Wall Street Journal has an excellent piece on China's currency, the Yuan (or Renminbi).
China has declared war on offshore speculators betting against its currency. But it is merely attacking a symptom, not the root causes, of its currency woes.
Over the past two days, China's central bank has intervened aggressively in the market for yuan traded offshore – mostly in Hong Kong – known by traders as CNH. Acting through state-owned banks, it has bought massive quantities of CNH, successfully closing the yawning gap that had opened up between the yuan's value in Hong Kong and in mainland China.
This gap – the CNH last week was trading at a discount of more than 2% – was a source of embarrassment to the People's Bank of China. It showed that international markets were spooked, and didn't believe its assurances that there is 'no basis' for continued yuan depreciation.
This post was published at Wall Street Examiner by anthonybsandersgmu ' January 12, 2016.