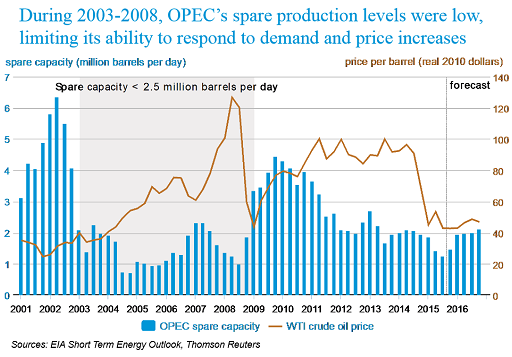 Low oil prices are the wreckage from a war – a financial war.
Oil sell-off after OPEC makes even ECB look good. Better to have announced something, even if less than hoped for, than nothing at all… – tweeted by Capital Economics.
We have not begun a new era of low oil prices, fruits of new tech and a beneficent Fate. Low oil prices are the wreckage from a war – a financial war.
The verdict is in. Experts proclaim OPEC's policies a failure. Here's T. Homer Bonitsis, associate professor of finance at the New Jersey Institute of Technology:
OPEC is non-relevant in terms of its ability to affect the price of oil. So any decision by OPEC will not have a long-term effect on the oil market. There are too many OPEC quota-chiseler countries and non-OPEC production countries that cast a shadow over the effectiveness of OPEC maneuvers. … If history is any guide, there is a secular downward trend on real oil prices.
… The Saudi strategy of attempting to knock out competitors by using predatory pricing is not a game changer long-term … Some producers may shut down temporarily, but will reopen when prices recover again. Indeed, some producers may go bankrupt – only to have their assets sold at bargain prices. The new investors in these assets have a lower fixed cost structure to produce oil; in essence, creating a lower-cost competitor! The policy is doomed to failure long-term.'
This is an economist's perspective: now is forever, economics is everything. It's why they are so frequently astonished by events.
This post was published at Wolf Street by Larry Kummer – December 8, 2015.