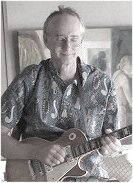 Complacent melt-ups aren't just boring–they're not very profitable.
File this under Devil's Advocate: what if the easy money in the stock market is no longer the "guaranteed" Bull melt-up but the Bearish bet on a sudden air pocket?Just as a thought experiment, put yourself in the shoes of the money managers who have the leverage to move the markets.
You probably know the drill: program your trading bots to recognize every technical trading scheme's key support and resistance levels, and then unleash huge futures/options buys after hours or pre-open so the market jumps in the direction that makes you the most money. Unleashing a tsunami of buy orders forces Bears to cover their bets on a decline (shorts), goosing the market higher. The melt-up depends not just on trading bots hammering the market in the desired direction with massive buy orders–it depends on a supply of nervous Bears to cover their shorts by buying stocks. This buying triggers others' trading bots to buy into the rally.
Short-covering is an essential source of the self-reinforcing buying that has kept the U. S. market melting up for years without any gyrations down of more than a few percentage points.
This post was published at Charles Hugh Smith on THURSDAY, SEPTEMBER 11, 2014.