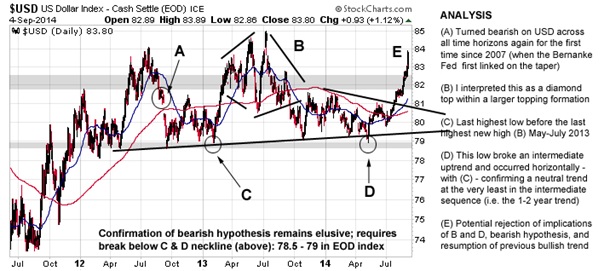 Confidence in the precious metals trade has ebbed going into the fall, and our bottom hypothesis is about to be tested. It is an irony in light of what many of the central banks are doing to their currencies these days. But you have to remember that most investors are sheep, chasing yesterday's returns.
A confluence of factors has nevertheless conjoined to make me potentially wrong about a few things: stocks, bonds and the dollar. If I turn out to be wrong about these things I may be wrong about gold.
What We're Wrong About So Far
I've been advocating a limited short against US government bonds (at least as a hedge) since gold prices first crossed over $1500 in 2011.
I tried very hard to avoid that trade for many years, but with the price of gold in parabolic mode it began to look appealing. An initial allocation of 5% was recommended in August 2011, only a month before the Fed launched 'operation twist,' driving bond values to record postwar highs.
I doubled up on that short (through the proshares ETF, TBT) on the idea that the rally on Wall Street would undermine bond values just before the Fed was going to taper.
Nevertheless, my timing is still clearly early.
This trade is down 40% after averaging out the two purchase prices, and continues to look weak.
My call on stocks is half right. I withdrew my remaining short-term bullish calls on US equities, as of the end of 2013, but have avoided recommending a short. I don't know if equities have peaked out yet or not but I am confident that 'US' equities have peaked in performance relative to the foreign equities.
This post was published at Gold-Eagle on September 7, 2014.