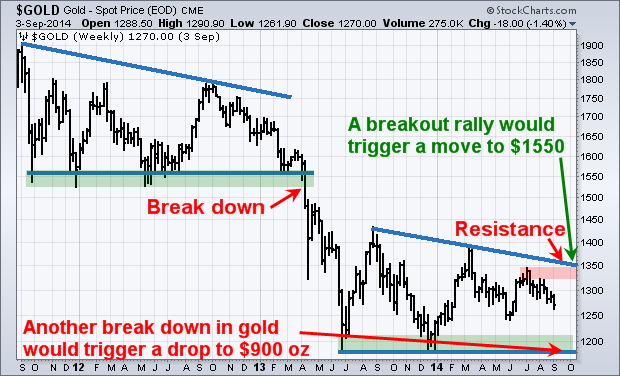 I will be honest, it has been a long time since I have been excited about gold, but I am starting to like gold once again. I had grown too bored to care what gold did. With the bull market top in 2011, and four years later price continues to founder can you blame me?
Let me start out by painting a picture for you. This is my technical analysis overlaid on the price of gold. This simply gives you a visual of were the price of gold is trading.
But first, if you have not yet seen this 'Gold in the USA' infographic you must check it out… it shows the history of gold in a visual format, and you will likely learn something from it – Click Here
GOLD HOLDS LONG-TERM BEARISH PATTERN Gold peaked around 1900 in September 2011 and quickly fell to the 1550 area. The metal then consolidated for 18 months before it broke support. The sharp decline triggered a drop in price to $1200 in April 2013. Since then gold has been in another consolidation, which is a bearish continuation pattern.
The lower highs in 2013 and 2014 reflect weakening demand and increasing selling pressure at lower price levels. A break down in price below support would trigger further weakness and a drop to roughly $900 oz. If you want more of a bearish visual; see my August gold report – Click Here
This post was published at Gold-Eagle on September 4, 2014.