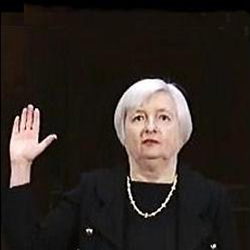 The Federal Reserve Board of Governors, together with the Federal Deposit Insurance Corporation and Office of the Comptroller of the Currency – the top regulators of Wall Street's largest banks – finalized liquidity rules yesterday that make absolutely no sense to anyone with a historical perspective on how Wall Street operates in a crisis.
The Federal regulators adopted a new rule that requires the country's largest banks – those with $250 billion or more in total assets – to hold an increased level of newly defined 'high quality liquid assets' (HQLA) in order to meet a potential run on the bank during a credit crisis. In addition to U. S. Treasury securities and other instruments backed by the full faith and credit of the U. S. government (agency debt), the regulators have included some dubious instruments while shunning others with a higher safety profile.
Bizarrely, the Fed and its regulatory siblings included investment grade corporate bonds, the majority of which do not trade on an exchange, and more stunningly, stocks in the Russell 1000, as meeting the definition of high quality liquid assets, while excluding all municipal bonds – even general obligation municipal bonds from states with a far higher credit standing and safety profile than BBB-rated corporate bonds.
This, rightfully, has state treasurers in an uproar. The five largest Wall Street banks control the majority of deposits in the country. By disqualifying municipal bonds from the category of liquid assets, the biggest banks are likely to trim back their holdings in munis which could raise the cost or limit the ability for states, counties, cities and school districts to issue muni bonds to build schools, roads, bridges and other infrastructure needs. This is a particularly strange position for a Fed that is worried about subpar economic growth.
This post was published at Wall Street On Parade By Pam Martens and Russ Marte.