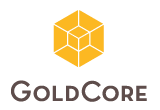 Bank Of Canada Holds Swiss, Dutch, Swedish Gold As Swiss Repatriation Referendum Looms
Ex Bank of Canada governor Mark Carney, now Bank of England governor, holds up a gold coin at the Royal Canadian Mint to promote the public sale of rare Canadian gold coins previously stored at the Bank of Canada since 1935. Canadian Press/Adrian Wyld Highlights
– Upcoming Swiss vote on gold repatriation could lead to gold repatriation from Bank of Canada
– Bank of Canada only acts as gold custodian to four foreign central banks
– Switzerland, the Netherlands and Sweden say they hold gold in Ottawa
– Bank of Canada no longer a major gold custodian; Canada has virtually no gold reserves
In just three months, on November 30, the Swiss will vote in a federal referendum on the future of the country's gold reserves.
This post was published at Gold Core on 28 August 2014.